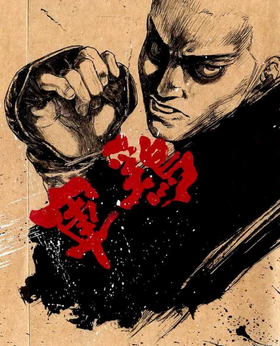 Welcome! The Shamo Wiki is dedicated to everything about the Shamo manga series.
Shamo is a Japanese action manga series written by Izou Hashimoto and illustrated by Akio Tanaka. It was started to be serialized in Weekly Manga Action in 1998 and moved to Evening in 2004. It was discontinued in 2007 due to creative differences but returned in 2011 and ended in 2015. It tells a story of a boy who killed his parents and turned himself into a cold-blooded martial artist. The main character is named Ryou Narushima. The manga inspired a Hong Kong film adaptation that was released in 2007.
We currently have 898 edits to 93 articles and 151 images on this wiki.
At the age of sixteen Ryou Narushima was a genius and looked to have no trouble of getting into Tokyo University and joining the elite of society. However, that summer something cracked inside Ryou's head. With a small knife he brutally murdered both of his parents only leaving his sister alive and cowering in a corner. It is at this grotesque incident that the story begins.
A list of arcs:
Part 1: Reformatory Arc
Part 2: Lethal Fight Arc
Part 3: China Arc
Part 4: Grand Cross Arc
Part 5: Dobu-Gumi Arc